Office Cleaning Mistakes You Probably Don't Realize You're Making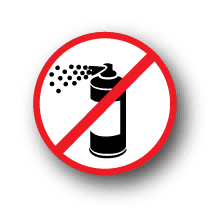 It's a great practice to keep your office clean, but many people don't realize it is possible to clean the wrong way. So these office cleaning mistakes could be costing you time, money, and cleanliness. Rectifying these mistakes will make your office area a healthier and more pleasant space, while saving you time and money doing it.
Office Cleaning Mistakes: Using the WRONG products
There's a world of cleaning products out there, and it may be a challenge to know which one to use for a given area. And products are usually made for specific surfaces. Using the wrong cleaner on the wrong surface is common on the list of office cleaning mistakes.  So this can cause a lot of expensive and unsightly damage. Look on the backs of your bottles if you're not sure which surfaces they're intended for.
Office Cleaning Mistakes: Using too many products
Other mistakes include having a different product for every cleanup project.  This clutters up your supply closet and makes it confusing for your cleaning personnel. Try to have fewer cleaners with broader uses instead of one product for every little thing in your office. It will make everyone's life easier. Multi-purpose cleaners are incredibly convenient, and they work just as well as cleaners with more specific uses.
Office Cleaning Mistakes:  Not having a list
It is a great idea to have a checklist of every area to clean and which cleaners to use for that specific task. This way, you can be sure your cleaning staff is being thorough and fully understand what they're supposed to be doing. It's entirely possible that they may forget a certain task, so a gentle reminder will make sure they don't make more office cleaning mistakes.
Not using green products
It's incredibly important to use products that will not cause environmental damage or make your employees sick. Some products contain harmful chemicals that can cause adverse reactions in your employees, like rashes, headaches, and even cancer. Make sure you are choosing products that will not cause any health problems. 
Not emptying the vacuum after every use
It may seem silly to empty the vacuum after every use. It makes more sense to empty the vacuum when it's full. Not so much. Vacuums perform best when there is plenty of airflow, and vacuums can become clogged incredibly easily. Emptying the vacuum after every use will ensure its long-term viability and keep it in working shape.
Not cleaning the cleaners
Your cleaning supplies need to be kept clean too. Make sure your mops, cloths, towels, bottles, caddies, and everything you clean with is also clean. This will help prevent cross-contamination and spoilage of your supplies.  This is one of the most common office cleaning mistakes.
In Closing
In conclusion avoid these common office cleaning mistakes by realizing the importance of keeping your office clean. Not just for appearances, but for the health of your workers and your business. Avoiding these mistakes will help you save money long-term, and make your workplace more efficient and pleasant to work in.
Visit our website at https://theofficecleanernova.com for a free cleaning estimate today!