6 Questions to Ask Before Hiring a Commercial Office Cleaning Company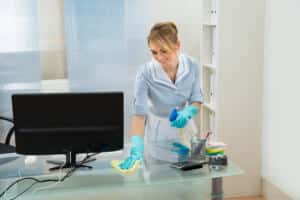 Did you know that a dirty office work space has been linked with distraction, lack of motivation, and lack of productivity? Therefore, allowing employees to work in a messy environment can negatively impact both a company's sales and their reputations.  This is precisely why commercial office cleaning companies are so important.
Commercial cleaning companies in the Loudoun and Fairfax County, Virginia regions, such as The Office Cleaner of Northern Virginia, provide thorough high quality and cost-effective services. However, when looking for a commercial cleaning company, how do you know which company to hire?  Here are six questions to ask a commercial office cleaning company before you hire them:
How long have you been in business?
This is a question that goes unasked far too often.  It is important to know that the office cleaning company is established and has been around for at least 3 to 5 years.  You don't want to make the mistake of doing business with someone working out of the back of their car.  Ask them how many cleaners they employ.  You can also see if they are a member of your local chamber of commerce.  This will give you a general indicator of their overall stability and professional outlook.       
Are you a locally owned and operated cleaning company?
This is an important question for several reasons.  You don't want to get mixed up with a national cleaning franchise under any circumstances.  They will tempt you by offering an extremely "lowball" price, only to turnaround and sell the cleaning contract to a local contractor that might not have ANY cleaning experience at all.  STAY AWAY FROM CLEANING FRANCHISES!  Other national cleaning companies will also setup local advertisements in your area, only to make it appear as if they are local.  Don't be fooled by these tactics. 
A locally owned and operate cleaning company will give you the best service for the price, hands down.  Their prices will not always be lower, but they make up for it in providing great communication, properly trained cleaners and superior management oversight on each job.   
Are you insured?
It's absolutely crucial that a commercial office cleaning company has liability insurance.  If a company isn't insured, it can be financially dangerous for your business.  If the cleaners were to accidentally break something in the office, you would be the one stuck with the bill.  Make sure the company you choose is fully licensed and fully insured.
What services do you offer?
Different commercial cleaning companies offer different services.  In addition to routine office cleaning services, some offer a wide range of additional commercial and janitorial cleaning services such as carpet cleaning, window cleaning, construction cleanup, warehouse cleaning, etc.  
Because we here at The Office Cleaner work with a wide variety of companies from accounting firms to medical offices, we have quite a diversified skill set and can tailor a custom plan to meet your specific needs.  Be clear on which services you need before hiring any company.
Do you have a quality control system in place?
Quality control is very important and quite often overlooked by cleaning companies.  Simply sending a cleaner to your office without any kind of follow-through is not good enough.  Having a solid system in place to check after the cleaners will help eliminate errors, misunderstandings and will ensure a pleasant customer experience overall.  Be sure to ask about cleaning oversight by management from the cleaning company.   
Do you provide the cleaning supplies?
It's not entirely uncommon for commercial cleaning companies to advertise extremely low prices, but then demand that clients purchase the cleaning supplies. However, this method ends up costing clients even more money and it's also inconvenient for both the cleaners and the clients.  Ask the cleaning company about their cleaning supplies and make sure they are included in your cleaning agreement.
If you are looking for an office cleaning company that meets all of the above criteria, then please don't hesitate to contact The Office Cleaner of Northern Virginia serving Loudoun & Fairfax counties including Sterling, Ashburn, Leesburg, Reston & Chantilly, Virginia and surrounding areas.  We are a licensed, reputable commercial cleaning company established in 2014 and based in Loudoun County, Virginia that provides stellar services at affordable rates.  We pride ourselves on being transparent with our clients.  If you own or manage offices in Northern Virginia that you would like cleaned, you can also get a free estimate by visiting our website at:  https://theofficecleanernova.com/schedule-a-free-estimate-office-cleaner/
Sources:
https://www.stathakis.com/blog/10-questions-to-ask-before-hiring-a-commercial-cleaning-company
For more information on local office cleaning, click here